Best HVAC Marketing Company
.
As your local HVAC marketing company, we handle all aspects of your online marketing strategy.
Grow your HVAC business with HLM
.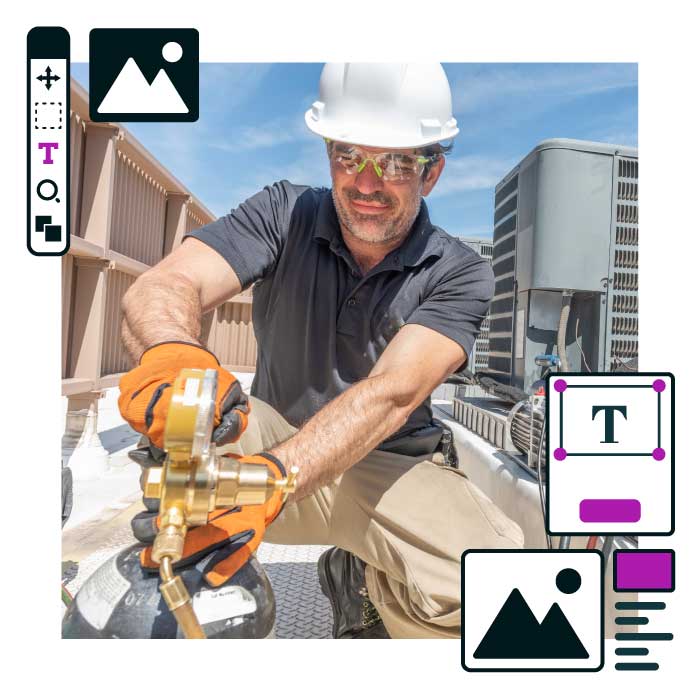 HVAC Website Design
.
When it comes to your website, you get one chance to look credible online. As your local HVAC marketing company, our responsive websites elevate your brand, engage your visitors and persuade them to take an action. This sets the foundation for your HVAC marketing strategy.
HVAC repair and replacement is not typically something a homeowner is capable of doing themselves, so when it comes to finding a qualified HVAC business, most homeowners start their search online. A well designed HVAC marketing website from HLM will make your business look authentic, clearly communicate your heating and cooling capabilities, feature trust signals and of course, an easy way to contact you. First time visitors to your website will take less than half a second to decide to engage with your website or click away, so we'll make sure in that instant, your website gives them a reason to stick around.
SEO for HVAC companies
.
Visibility for your services is key to growing your business online. Our SEO strategies make sure your company reaches potential customers when, where, and on how they are searching for your service.
The HVAC landscape is highly competitive. No matter where you're located, you're guaranteed to have a competitor or two in your city. Expand your service area a few miles away from your main office and you'll find dozens of other HVAC companies competing for customers. Effective SEO strategy for companies works hand-in-hand with web design to create a visually interesting website with engaging content that represents all your services. Visitors will usually come to your website from a search for one of these services. HVAC SEO optimizes each of your services giving you visibility at the local level and increasing its effectiveness with SEO-related citation platforms like Google My Business and even voice search. Whether you're in a small town or major city, our all-inclusive approach will ensure your company gets found for your services on all devices.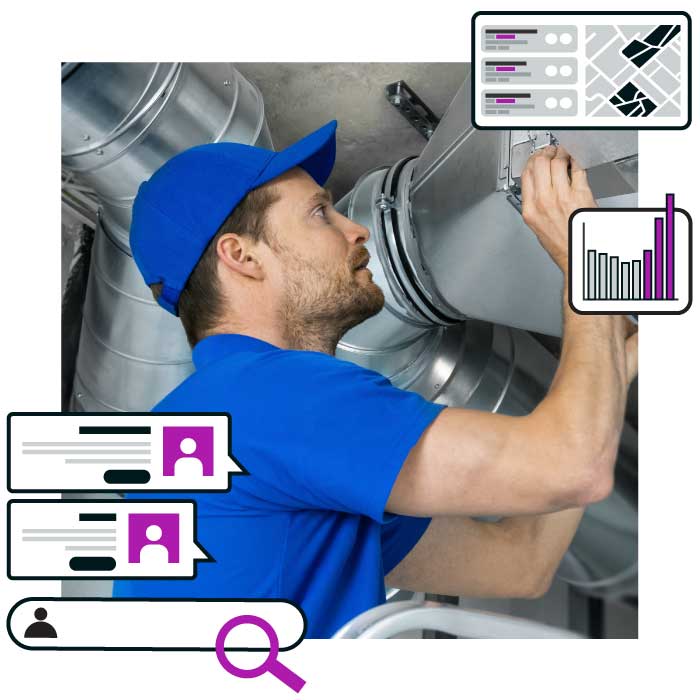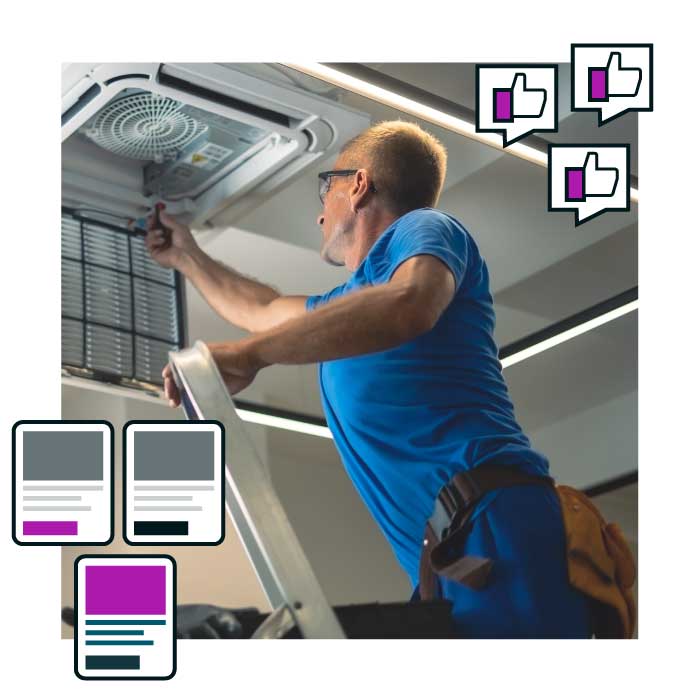 HVAC PPC Advertising
.
Fast-track your company to the top of search results on Google, Bing, and Yahoo with display ads, PPC, and remarketing. We maximize your ad spend by following the data and adjusting the ad content to get you more qualified leads at the lowest cost per click.
Want to dominate search results for heating and cooling? Paid Search provides a way to show up for 100% of the possible keywords related to heating and cooling being searched in your selected geography. Unlike SEO, with Paid Search we can fine tune your HVAC advertising campaign to be as broad or specific as you want to be; targeting certain demographics, days, times, geographies, devices, and more. And best yet, paid search Google Ads offer you the flexibility to make changes on the fly and see how they impact your campaign almost immediately.

Unique features like click-to-call buttons, incentive callouts, review ratings, and more, make Google Ads and Bing Ads sometimes more effective than SEO alone; these features are designed to call attention to paid ads over organic HVAC search results - and usually achieve this goal with great messaging and a compelling offer to get more sales leads.

Also unlike SEO, Paid Search can specify the geographies you would like your practice visible in. This is the only channel that can guarantee visibility outside your local geography, making it ideal for HVAC businesses in areas where specific pockets of a metropolitan area lack heavy competition or rural areas where it is not uncommon for heating and cooling technicians to drive 50+ miles for a customer.
Increase Your GOOGLE Reviews
.
Building trust online starts with actual customer reviews. Our Review Management package makes it easy to ask your customers for a review and provides one platform to manage your reviews across multiple sites.
Simply put, your online reputation affects nearly every channel of your digital marketing. Everywhere you look, you'll see reviews on Google, Yelp, and numerous other places online. When looking for a roofer, trust is one of the biggest factors for consumers. A roof is a major investment, and potential customers want the confidence of knowing you're going to treat them well, charge them fairly, and do a great job. Reviews on third-party sites like Google, Yelp and Angie's List are some of the best ways to let roofing customers know they can trust you. Having a few bad reviews is ok, and when you do enough business, it's likely. We all know there are people out there who are never satisfied and like to complain. However, it's critical that you respond to them and demonstrate to everyone else that you're willing to do what it takes to make the situation right. Potential customers don't expect perfection, but they do expect honesty, authenticity, and your willingness to stand behind your work. Growing your reviews with HLM ensures your happy customers promote their experiences so new customers have the highest trust in your business.