South Carolina Med Spa Sees Steady Growth Every Year with Robust SEO Strategy
.
The Background

.
---
This South Carolina's premier destination for advanced aesthetic treatments boasts a modern, state-of-the-art facility for its clients. Understanding that aesthetic practices are impacted by a variety of external economic pressures, digital marketing has become a vital tool for med spas to attract new patients and grow their practices. With the help of targeted advertising, search engine optimization, and compelling content, the Med Spa has been able to increase their online visibility, build brand awareness, and establish a strong online presence that drives more patients to their practice.


HLM Results Impacting Growth

.
Key Strategies
.
---
Harnessing the Power of Google as a Top Referral Source
This South Carolina Med Spa is in a highly competitive market with incredible opportunities for cosmetic and aesthetic services, but its traditional marketing channels weren't delivering the results they needed to succeed. Their previous agency lacked expertise in the med spa industry and was unable to help the Med Spa reach the 97% of people who rely on top search results when selecting a med spa. That's when we stepped in to take their online presence to the next level. We built them a strong digital foundation, optimized their local market visibility, and created a powerful digital marketing strategy that has set them apart from the competition.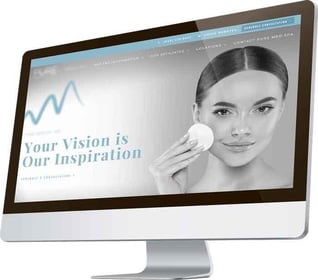 New Website to Boost Brand Appeal & Increase Growth Opportunities
Focus on Structure, Content, Brand, and SEO
To compete with 10+ established med spas in Bluffton, SC, HLM implemented an effective website design, content, and structure. Our approach, including user-friendly navigation, informative content, and search engine optimization, established the Med Spa as a credible destination and secured top search results for service pages, driving traffic and growth.
SEO and GMB Optimization to Unlock Visibility Across Multiple Searches
Focus on Quality Leads, Services, Google Local Pack
In a highly competitive market, optimizing the Med Spa's Google Business Listing, implementing a targeted keyword strategy, ensuring accurate NAP (Name Address, Phone) across industry directories, and connecting it with their website SEO were crucial to building trust and increasing visibility. By meticulously ensuring consistency and accuracy across all platforms, we were able to establish credibility and significantly improve search engine rankings. The result was a dramatic increase in visibility among potential patients, driving a surge in website traffic and generating new growth opportunities. Our strategic digital marketing plan not only elevated their online presence but also reinforced the Med Spa's position as a leading med spa in their market.
" I noticed a significant increase in leads once I started working with HLM. Their digital strategies have driven a strong return on our investment."
— Owner South Carolina Medical Spa