 PDO Max
.
Crushing Annual Growth Goals with HLM
PDO Max Reaching Growth Goals with HLM
.
PDO Max is the trusted provider of its proprietary FDA-cleared Polydioxanone (PDO) threads to hundreds of medical practices performing in-office, non-surgical facelifts. Developed after years of research, white papers, certifications, and an in-depth understanding of the beauty sciences, PDO Max threads offer the safest, most effective solution possible for both patients and practitioners. PDO Max supports its clients by offering professional development seminars on threading, providing training on multiple PDO Max products, and helping its clients boost revenue within weeks of training.
HLM Results Impacting Growth

.
0%
Increase In Conversions
0K
New Website Users in 2022
Background
.
---
PDO Max Had an Aggressive Growth Goal and Needed an Innovative Digital Marketing Strategy to Fuel It.
PDO Max's current marketing strategy was effective, to a point. But to reach its aggressive growth goals, it needed a holistic marketing approach that started with an enticing, customer-focused website positioning PDO Max as the most reputable and trusted brand in thread technology. The second step was to launch a flexible, innovative multi-channel strategy to attract med spas, plastic surgeons, and cosmetic/aesthetic professionals with training workshops and content marketing that focuses messaging on growing your business with PDO Max.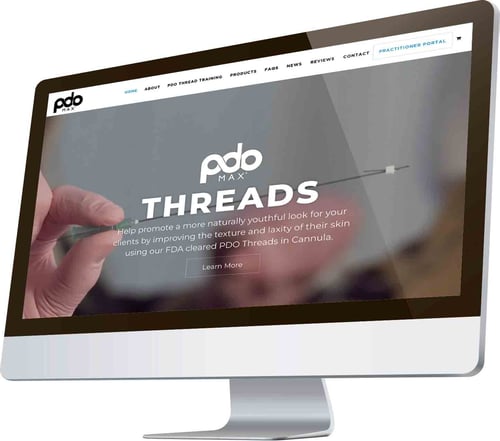 Key Strategies
.
---
Branding at the Next Level
Focus on User Experience, Conversions, Resources
PDO Max had a website, but it looked like a local brand rather than the big, national brand it was. They needed a clean, elegant website that resonated with their cosmetic and aesthetic practitioners who focused on helping their patients look their best. It needed to be simple, intuitive, and mobile-friendly. Users needed to find information about PDO Max threads quickly and have a direct path to get started, find training, or visit the practitioner portal. To support HLM's SEO strategy, the website had to be optimized with original, relevant content and include an internal linking strategy that would send engagement signals to Google and help PDO Max content get ranked high in SERPs.

HLM continues to achieve page one Google rankings for PDO thread training, PDO thread manufacturer, and best PDO thread supplier.
Build Online Trust
Focus on Local Listings, NAP Consistency, Backlinks, Content Marketing
Before HLM, PDO Max did not put much effort into their online presence. They had Google Business listing with just two reviews, and 97% of their business listings were inaccurate. These weaknesses were negatively impacting their ability to rank in SERPs. In fact, they had no online presence. Our SEO experts put PDO Max back on track by updating their business listings and creating NAP (name, address, phone) consistency across credible business directories. They added quality backlinks to relevant pages on the website and optimized PDO's Max Google Business Profile, including a plan to gain more reviews. Combined with a content marketing strategy that includes informational blogs, this strategy sends incredible trust and authority signals to search engines.

Thanks to HLM's content marketing team, PDO Max blogs are ranked 200,000+ times in SERPs and the PDO Max website averaged over 40,000 new users year-over-year; a 170% lift from the previous year!
Search Engine Optimization and PPC
Focus on Content Marketing, SEM, Social Advertising
PDO Max needed to generate revenue quickly to reach its growth goals. We needed to get the word out- with more content and channels to reach more doctors researching non-surgical facelift techniques and suppliers online. That meant dominating search results in multiple positions with various content and formats. To achieve this, PDO Max invested in a regular blog strategy, paid search advertising, and paid social media. PDO Max's dedicated performance manager monitors channel success using HLM's footprint technology, data, and expert analyses to ensure PDO Max gets the biggest return on investment.

With HLM's PPC campaign producing a 15.90% CTR for its Training SEM campaign (more than 4x the industry benchmark), PDO Max hit their 2022 training goal and was able to hire an additional trainer in anticipation of the bigger 2023 schedule.
"Not only do they create beautiful websites, they work with us every step of the way with campaigns and provide regular insight into analytics."
— Diana Daly, PDO Max