 Moraine Ridge Senior Living
.
30% More Conversions per Month with Google Local Listing!
See How Senior Living Community Gets 30% More Conversions per Month with Google Local Listing with HLM
.
Moraine Ridge Senior Living is an established and well-respected senior living community in Green Bay, WI. They recently renovated their beautiful community, offering seniors a fulfilling lifestyle with customized plans and a continuum of care. Unfortunately, the Moraine Ridge website was outdated. It didn't represent all it had to offer and wasn't getting the visibility or conversions the community needed to meet its occupancy goals. They turned to High Level Marketing for a website update and local SEO package that could reach more senior families with engaging content and imagery that inspired tour requests.
HLM Results Impacting Growth

.
0

%

More Leads from Google Local Pack
Background
.
---
Generating Traffic at Scale
Like most senior communities, Moraine Ridge worked with a limited budget to attract knowledgeable employees and generate demand for tours and information. Our senior living marketing experts began by assessing the website's SEO and market penetration and developed a plan to build a solid digital foundation, including a new website and local SEO strategy to expand visibility beyond their city limits and increase family tours month-over-month.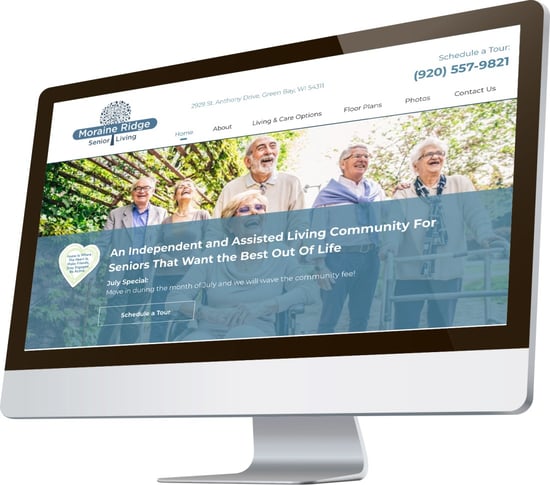 Key Strategies
.
---
Building a Digital Foundation
The senior living industry is extremely competitive, especially if you are a local business without the backing of a national marketing campaign. The key to securing visibility in your local market against national brands is to focus your digital strategy around local SEO. That means developing a fully-optimized website with content and content marketing strategy that includes geo-targeting. It also requires a fully optimized Google Business Profile with as many 5-star Google reviews as possible and ensuring the community has NAP (name, address, phone) consistency across credible local directories. By gaining top organic positions, including Google's 3-pack, we can attract and capture the lion's share of senior living search queries
Local SEO & GMB Optimization
Focus on: Brand Name, Google Business Profile, and Backlinks
It's a fact. Most people first turn to Google and other search engines to find local businesses. We built the Moraine Ridge website on our Footprint CMS, our number one website platform for speed and search engine optimization. We filled the website pages with original content ensuring it answered Google's top search queries with Moraine's features and amenities. Then, we improved Moraine Ridge's digital presence with 70+ local directory listings and backlinks, including a fully optimized Google Business Profile. This combination and a hundred other local SEO tactics send powerful trust and authority signals that keep Moraine Ridge at the top of local search results month after month. In fact, their Google Local Listing alone generates an average of 77 mobile calls, 105 requests for directions, and 121 website clicks per month, making it the top lead generator for Moraine Ridge.
Professional Website and Branding
Focus on Brand, Position, Tour Requests
The Moraine Ridge website needed to attract, engage and inspire seniors and their families to schedule a tour. Website design for seniors requires a clean, intuitive user experience, and pages are designed with lots of white space, larger text, and plenty of contrast, keeping pages easy to read. It's a combination that isn't easy to make friendly, warm, and inviting. Fortunately for Moraine Ridge, the HLM website designers, developers, and copywriters are Senior Living website design experts. The Moraine Ridge website looks clean and straightforward, but many strategies went into the navigation, page layout, photos, headlines, and transitions. With an average of 2.43 pages per session and an average of 2:15 min per session, the Moraine Ridge website is very engaging. It's no wonder that about 50% of the website visitors are return users, making the second visit the one they ultimately convert on!
"HLM understands the senior living industry. They are more instrumental in generating family tours than other agencies we've worked with."
— Michael Klein, Moraine Ridge Senior Living