Guin Service
.
Smashing Lead Volume Records with HLM
How Guin Services Increased Leads by 137% with HLM
.
Guin Services was founded in 1958 and is a 4th generation home service company serving the Birmingham, Alabama market. Joseph Guin began working in the company in 2011 and three years later took over the day-to-day operations of the business.
HLM Results Impacting Growth

.
0

%

Increase In Web Traffic
#
0
In SERPs for Multiple Services
Background
.
---
They Needed a Strong Foundation to Promote Long-Term Success.
As Joseph was taking over the company, he thought about how he could take the business to a new level, growing revenue beyond where the company has ever been. He realized that a strong marketing program was required if he was going to hit consistent growth objectives.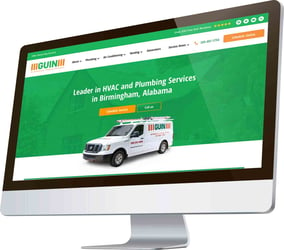 Key Strategies
.
---
Designing a Website to Increase Visibility, Traffic, & Leads
Focus on Mobile Experience, Trust, & Convenience
When it comes to improving your online presence and visibility, it should start with building a lightning-fast website that has great content and is built to convert. High Level Marketing built a website that took into consideration the fact that most website visits happen on a mobile device. After building the website, the team at HLM created a long-term roadmap to optimize Guin's website and local business listings.
Key results were higher engagement, more quality HVAC and plumbing leads.
Activating Ad Campaigns to Boost Search Engine Visibility and Lead Volume
Focus on Local Services Ads (LSA) & Search Engine Marketing Campaigns
HLM helped get Guin "certified" with the Google LSA program which ultimately added more page 1 listings and an incredibly low cost per lead. Guin continues investing in LSA to take advantage of top of the page positions. Additionally, HLM created, activated, and optimized paid search campaigns on Google to improve visibility for AC Repair and Replacement. Search Engine Marketing was a major contributor to inbound phone call leads and equipment sales.
Key results included overall more valuable traffic and less cost per conversion.
Optimizing Local Listings and Updating
Authoritative Content to Gain Visibility
Focus on Custom Content, Video, GMB Optimization
Prior to working with HLM, Guin wasn't benefiting from map listing visibility. They are now generating 12,000+ quarterly impressions on Google Maps for AC repair and replacement searches.
Key results included better rankings and more mobile conversions.
"The best digital marketing business we have ever worked with."
— Joseph Braswell, Owner Guin Service