ASDT
.
The First Phone Call Regarding PPC from HLM Paid for Our Entire Year of Digital Marketing!
Phone calls and crushing KPI's
.
Advanced Structural Drying Technologies (ASDT) is a Tennessee cleaning and restoration company focused on mitigating, remediation, and reconstruction of commercial and residential properties from natural and man-made disasters. With national brands moving in on local restoration companies, president and owner Gary King needed to get serious about building his online presence. That's when he turned to High Level Marketing and was immediately impressed with the level of expertise and detail the team put into a data-driven, multi-channel strategy.
HLM Results Impacting Growth

.
0

%

Reduction in Cost-Per-Click (PPC)
0

%

More Revenue Generated
Background
.
---
Generating In-Market, Quality Leads with HLM
ASDT's best opportunity for growth and profitability is water damage restoration in a 35-mile radius around his Brentwood territory, so we anchored his digital strategy with a robust paid campaign, and it paid off. The very first call from his paid campaign paid for his entire year of digital marketing! And another thing happened. Since HLM developed a new SEO-optimized website and created NAP consistency (name, address, phone number) across the internet, ASDT is now receiving calls from their target customers for their target jobs.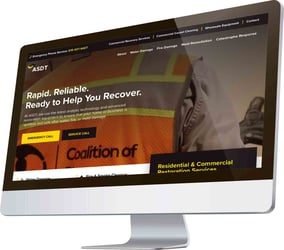 Key Strategies
.
---
Taking Active Role in Digital Marketing
Prior to HLM, ASDT had a set-it-and-forget approach to the internet. They had a website and relied heavily on their sales team to generate new business. Unfortunately, they were invisible in the local market, and when disaster struck, they saw national brands with big budgets dominate the internet and scoop up their local opportunities. We met Gary at a trade show and took the opportunity to reveal how the right digital strategy could take his business from surviving to thriving.
New Website, Local SEO & GMB Optimization
Focus on Speed, Content, Backlinks, Google Business Profile
To compete against national brands taking the top search results with paid ads, we created a local SEO strategy to help them gain visibility in Google's 3-Pack (local pack) for their service keywords. Tactics included optimizing their website with engaging content and relevant backlinks, creating NAP consistency across 70+ local directories, and using automation to help them generate more Google reviews. In the first 90 days, ASDT's local visibility for service keywords skyrocketed from non-existent in its own backyard to high visibility within a 10-mile radius (and expanding).
Complete Visibility into Marketing Tactics and Business Impact
Focus on Lead Tracking, Critical Metrics, HLM Activity Insight
With HLM's Footprint performance dashboard, we provide better insights and have more meaningful conversations about what's working and where your best leads come from. Using the Dashboard's 24/7 lead tracker, Gary can see where his leads come from, listen to recorded calls, respond to form fills, and rate the lead quality. He sees all the work performed on his account and gets full access to key metrics impacting his business growth. This transparency and access to key metrics and his performance manager help Gary understand his ROI and make smarter marketing decisions faster.
"Having complete insight into our customers and where they're coming from is a tremendous asset to my sales team and me. I would recommend High Level Marketing to anyone looking to expand their business."
— Gary King, President & Owner ASDT