Affordable Attic Insulation
.
Nearly Doubled Revenue and Slashed Acquisition Costs with HLM!
Family-Owned Firm Offers Eco-Friendly, Affordable Attic Insulation
.
Affordable Attic Insulation is a small, Christian, family-owned business in Katy, TX. Owner Jason Furrer is a specialist in attic insulation and has been a leading Radiant Barrier contractor for 16+ years. His mission is to increase home comfort with products and services that improve energy efficiency and reduce its environmental footprint. Jason performs every job personally to ensure affordability and quality work from start to finish.
HLM Results Impacting Growth

.
0

%

Reduction in Cost-Per-Click (PPC)
Background
.
---
"We Needed Quick Wins for the Busy Season"
Jason's busy season was approaching. He needed to attract leads quickly and expand his reach in the Greater Houston area. He tried running PPC campaigns on his own but quickly realized after weeks of overspending on low-quality leads he needed the right marketing partner to accomplish his short-term revenue-generating goals. Before a friend recommended HLM, he never imagined how much bigger and more profitable he could be using PPC as part of a robust long-term digital marketing strategy.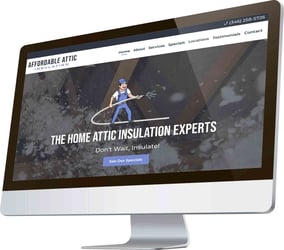 Key Strategies
.
---
Rethinking Single Channel Marketing
With HLM, Jason quickly realized putting his entire marketing budget into one channel was risky. Without a robust website and digital foundation to support it, pay-per-click (PPC) advertising could never generate the kind of leads he needed to make it worthwhile. Our digital strategists collaborated with Jason to determine the right combination of tactics that would strengthen his brand, increase visibility in his market, and position Affordable Attic Insulation as the trusted leader in residential attic insulation solutions.
Local SEO & GMB Optimization
Focus on Brand Name, Backlinks, and Territory Expansion
Affordable Attic Insulation is headquartered in the small town of Katy, TX. Owner Jason wanted to expand his service area into the Greater Houston area. Our SEO experts optimized Affordable Attic's Google Business listing, created a content strategy to expand the service area and started a backlink strategy that makes it easier for search engines to understand Affordable Attic Insulation's core services and the residential areas they service.
Pay-Per-Click Advertising (PPC)
Focus on Quality Leads, Territory Expansion, Reducing CPC
Before partnering with HLM, Jason performed all of Affordable Attic Insulation's digital marketing efforts, including PPC. Not only did this mean spending less time focusing on clients, it meant more stress and overspending on campaigns that yielded terrible results.
"With HLM, I can now focus all my attention on doing jobs and working in the field- which is the best contribution to growing my business I can make."
— Jason Furrer, Owner Affordable Attic Insulation